JADITE TOWEL BAR ROD RACK
1920's JADE-ITE
(Quantity 30 available)
REGULARLY $45.00 each

$30.00 each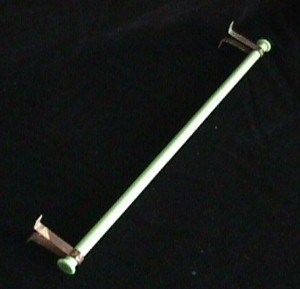 I CAN EVEN MAKE YOU A COPY OF THE ORIGINAL 1920'S PAPER WORK THAT THESE CAME WITH WHEN ONE WOULD ORDER THEM FROM THE COMPANY!!! VERY VERY RARE!!!

This is a fabulous Depression Era Jadite Glass Towel Bar! Practically glows. MEASURES APPROX. 17"LONG. It is in excellent condition, having no chips or cracks. The color is nice and vivid on the towel bar. The brackets are not included... but you can purchase brackets at almost any hardware (Home Depot) store. What a great depression Jadite towel bar for you vintage bath.

THESE WERE PURCHASED FROM A DEALER WHO PURCHASED THEM FROM THE WOMAN WHO ACTUALLY OWNED THE COMPANY IN VINELAND NJ THAT MADE THESE. WE CAN SEND YOU A COPY OF THE PAPERWORK THAT CAME WITH THESE WHEN THEY WERE ORDERED! JUST TRY TO FIND THAT SOMEWHERE ELSE!!! GUARENTEED AUTHENTIC!!!
Site maintenance by Candlelight Web Design
Site Designed by C J C