Antiques & Collectibles from the past. From Antique Bridal Gowns to Vintage Wedding pieces. Antique Wedding to Vintage Bridal Veils and Gowns Collectible Christmas items. Our items on eBay for sale also.
Patina's Promise
Antique Shoppe

Woodbury, NJ

---


Bid on items you see here which interest you at...


Current Auctions by Patina's Promise Antique Shoppe

If you aren't a registered member of eBay,
take a few minutes to fill out the simple free registration at...

Buyer to pay shipping, handling and insurance.
Personal checks, money orders, and cashier checks are accepted.

Credit Card Payment now available

If you have any questions do not hesitate to email me.

Good Luck Bidding
Have Fun!!
---

RARE COBALT BLUE 1950'S CROME KITCHEN TABLE
Item #439585734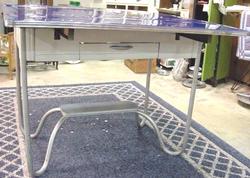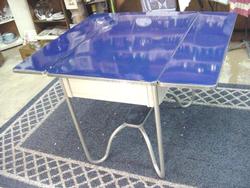 WOW!!!! Have you ever seen one like this? I am so excited to offer this rare piece. It is a COBALT BLUE PORCELAIN TOP KITCHEN TABLE. If you want that 50's look or even have a blue
and white kitchen this would be sooooo perfect. Just imagine how that Flow Blue or Blue Willow china would look with this. The top of the table is in nearly perfect condition. The only flaw to the top is some very thin scratches to the top. They do not go all the way through and they look to have been caused by use and the sides being pulled in and out. This really is in
wonderful condition. I took lots of pictures to show how breathtaking it really is. The bottom is white painted wood. It has one silverware drawer. This has a replaced bottom. The drawer has a crome handle. The legs also look to be crome. I do think they were painted over at one point to help them shine. This table came with 4 crome chairs with turquoise 50's seats. I didn't think that they matched very well but if you are interested in them just let me know and we can work out a deal. They have 1949 written on the bottom of the seats. I will personally deliver if it is within 100 miles of my location in Southern Jersey. The charge for this will be the minimal (cost of uhaul and gas & mileage). Otherwise, the buyer is responsible for arranging shipping, handling and insurance. I will be more than happy to help if possible.

More pictures of this item
BID ON THIS ITEM:

Bidding Ends 9/22/00

---


Victorian Bamboo & Cane Child's Rocking Chair
Item #439600671

Here is a wonderful item. I think this is Bamboo and Cane. It is also what I think is
handmade. A fantastic Rocking Chair. We are pleased to be offering this wonderful
antique bamboo style rocking chair, which would most likely be used for a child or a
doll. The condition of the chair is excellent with just normal wear on the bottom of the
legs and most likely dates from the 1920's to 1930's(we think). If you know anything
about this piece we would love to hear from you. It has a very unusual design, one
that we have never seen. It is definitely a conversation piece and would certainly
finish off anyone's porch or living room. If you are looking for a unique antique that
would certainly get your neighbors talking, than this child size rocker is what you
need. Enjoy the auction and have fun and please check our other auctions this week.

More pictures of this item
BID ON THIS ITEM:

Bidding Ends 9/22/00

---


Check out these other items of mine which are being bidded
on now or will be available on eBay shortly.


More of My Antique's & Collectibles


---

Thank you for business. All sales are final. If you have any questions or concerns about any item you MUST email us before the auction ends. No exceptions. You have the option to pay by Paypal, Billpoint, MoneyOrder, Cashier's Check, or Personal Check (takes 7-10 days to clear).
Good luck bidding and thank you for your business.

I accept payment through X.com. For more information, click here.



SPECIAL
Patina's Promise
CHRISTMAS COLLECTIBLES & ANTIQUES


Check out these other items of mine which are being bidded
on now or will be available on eBay shortly.

---
Check Out Patina's Promise Bridal Shoppe at:
http://patinaspromise.tripod.com/bridal.html
---


Site Updated 9/17/00
(Click on RELOAD To Get Recent Update Of This Site)