Wedding / Bridal / Anniversary / Shower / Christening
Announcements & Invitations
VINTAGE LOT OF BRIDAL SHOWER CARDS
Item #VC101- $5.00 each (Quantity 6)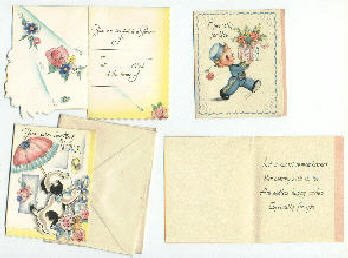 These are vintage of Bridal Shower Cards. Six cards in all. Two cards have a puppy holding an umbrella trying to open a door, trimmed with yellow. Two cards with envelopes with little delivery boy delivering a gift with flowers atop. Two cards with envelopes of a bride swinging on a wedding ring. Each 3 3/4" x 3"; 3 1/2" x 3 and 3 1/4" x 3 1/4" respectively. Excellent condition.
---
VINTAGE LOT OF BRIDAL SHOWER CARDS
Item #VC102- $5.00 each (Quantity 6)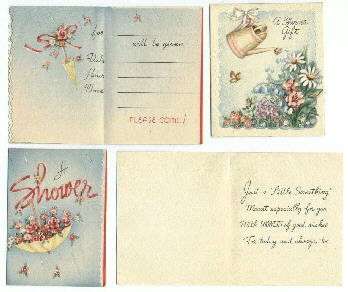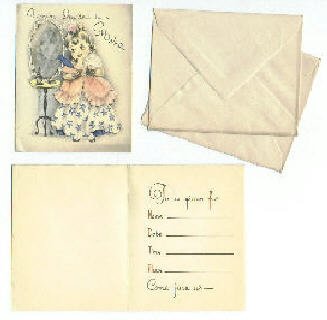 Vintage Lot of Bridal Shower Cards. Six cards in all. Two cards with shower written in red with a yellow umbrella and red roses. Two shower gift cards with a watering can, watering a small flower garden. Two shower cards/envelopes with a bride looking in to a vanity mirror. Each 3 3/4" x 3". Excellent condition.
---
Bridal Shower Invitations - UNUSED!!!
Item #VC103- $7.00 each (Quantity 7)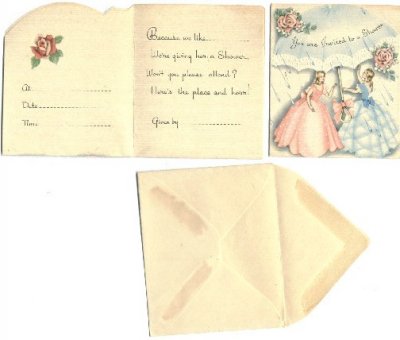 Offered here are 7 unused vintage Invitations to a Bridal Shower, with their original envelopes. They appear to be from the 1950's. They measure 3 X 3/12".

The front features 2 Bridesmaids, one in pink and one in blue "belle" style dresses underneath a large umbrella. Small Rose bouquets decorated the umbrella, and a few raindrops are seen coming down! (the front of the card is shaped at the top to follow the curve of the bouquet and the umbrella)

The inside reads: At---, Date---, Time--- ; on the left side, and Because we like--- We're giving her a shower, Won't you please attend? Here's the place and hour! Given by----; on the right side.

Use these special invitations for your Bridesmaids, or special guests. Or, what I like to do with vintage cards, is scan them on my computer, then print cards from the scans. I get the wonderful vintage designs, but I can decide how many to print and their size!


Condition:
The cards and envelopes are in fairly good condition. There is some wear, mostly to the corners and edges, and as with most vintage greeting cards, the paper has darkened slightly. The envelopes have darkened quite a bit, and the glue lines show as darker than the rest of the envelope.
---
Vintage Fan WEDDING FAN Greeting Card!!!
Item #VC104- $10.99 each (Quantity varies upon availability)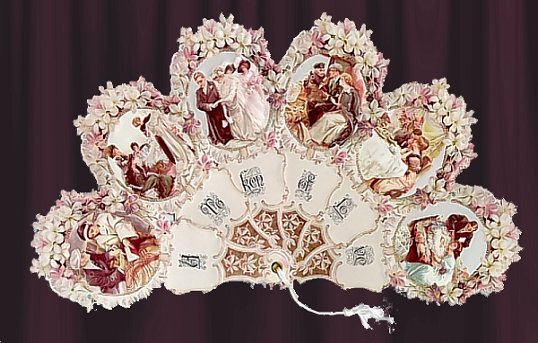 This beautiful embossed heirloom fan greeting card has been reproduced from an original 1901 paper fan and comes complete with envelope for mailing. When it is fully opened it measures 13" x7" excluding the white satin tassel.
---
25 PACK OF WEDDING BUBBLE CARDS
Item #VC105- $5.00 each (Quantity 1)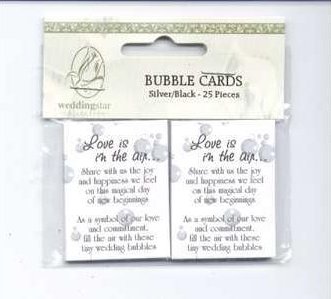 25 PACK OF BUBBLE CARDS. THEY ARE BRAND NEW AND STILL SEALED IN PACKAGE. ATTACH THESE TO YOUR WEDDING BUBBLES. THE CARD READS - LOVE IS IN THE AIR... SHARE WITH US THE JOY AND HAPPINESS WE FEEL ON THIS MAGICAL DAY OF NEW BEGINNINGS. AS A SYMBOL OF OUR LOVE AND COMMITTMENT FILL THE AIR WITH THESE TINY WEDDING BUBBLES.
---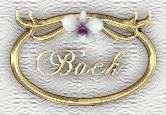 Patina's Promise Bridal Shoppe