Bridal Dolls
---



Fine Bisque Porcelain Bride Doll
Item #BD120- $39.95 ( Quantity 1)
HAND PAINTED BISQUE Bride Doll from circa 1920's - 40's. There are no chips or repairs or cracks. She measures approx. 3.75" tall. With June weddings coming soon, you'll want to see your collection of bride dolls again and these would certainly be a great adorable addition to your collection. And if you don't have a collection, nows a great time to start!
---

Dark Haired Crochet Vintage Bride Doll.
Item #BD23- $22.00 (Quantity 1)

$15.99
TAKE ME HOME NOW FOR $9.99!!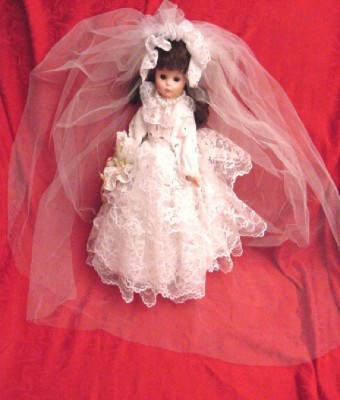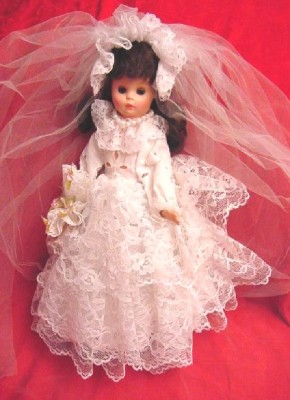 This is a sweet handmade crochet bride doll. She has lovely long black locks. Someone put some tender love and care into this doll.
---

Vintage Crochet Bridal Doll.
Item #BD113- $15.00 (Quantity 1)

$12.99
TAKE ME HOME NOW FOR $9.99!!
Sweet Bridal doll is handmade and ivory in color. She has very blue and lovely eye's. This doll measures approx. 7.5"tall. There are also 2 rosebuds dangling off her bouquet.
---

Precious Moments Jessie & Jonny Bride & Groom Dolls
Item #BD116- $95.00 (Quantity 1 pair)

$75.00
TAKE ME HOME NOW FOR $55.00!!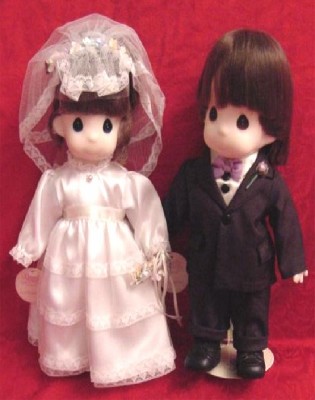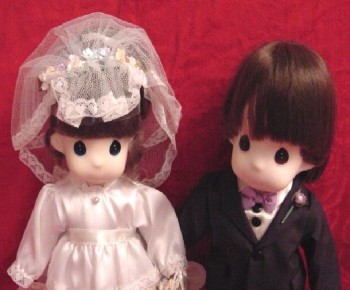 Here we have an adorable Precious Moments Bride & Groom couple. These are from 1994. They are named and numbered. Jessie #1001 and Jonny #1011. They are approx. 12.5"tall. They have their original stands , bags and tag.
---

Antique Bride Doll in Package
Item #BD115- $25.00 ( Quantity 1)

$19.99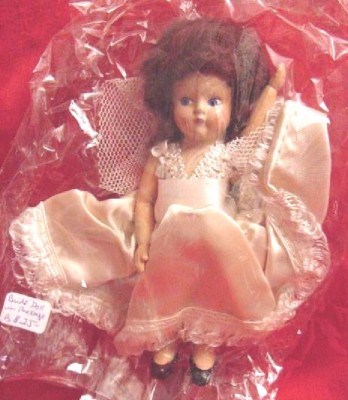 This antique bride doll is still in her package. She is in fabulous condition. She measures approx. 6"tall. Blue eyes, Ivory gown and simple veil. She has held her patina so well. She deserves to go to a lovely bride or even sweet flower girl.
---

BRIDE & GROOM DOLL SET ON SATIN SWING
Item #BD1- $9.99 ( Quantity 1)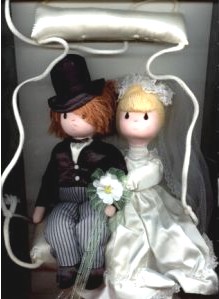 This is a beautiful Bride & Groom Doll Set. These two dolls are sitting on a satin swing. The Bride's dress & Groom's suit are made of a satin type fabric. The swing is made of the same material. The swing has a handle so you can hang this up. The dolls themselves are about 10" tall. However, when held straight up by the handle of the swing, the whole item is 24" tall.
---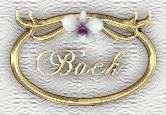 Patina's Promise Bridal Shoppe
FastCounter by bCentral