Cake Plates & Servers
---


MIKASA CAKE PLATE & SERVER SET!
APRIL ROSE BONE CHINA!
MINT CONDITION!
RETAIL PRICE = OVER $150.00 OUR PRICE = $75.00
Item:CAKEPLATESERVER1- $75.00
(Quantity: 1 Set)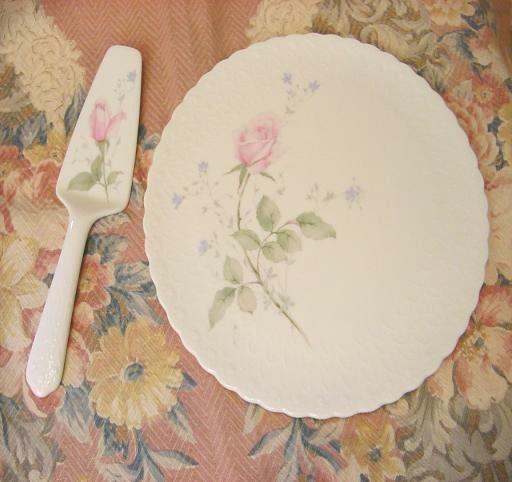 This is a beautiful Mikasa bone china Cake plate and matching server in the April Rose pattern. Made in Narumi Japan. Style # B2053. The cake plate measures approx. 11.5" in diameter. The matching cake server measures approx. 10" long. Both are in excellent condition with no chips, cracks, or scratches.

The pattern features a soft pink rose with small blue flowers. The plate has a delicate embossed design around the rim and scalloped edges.

Click on heart to order
---


Formalities by Baum Bros.
Rose Cake Plate & Server

Item #CAKEPLATESERVER2- $24.99 ea. (quantity 1)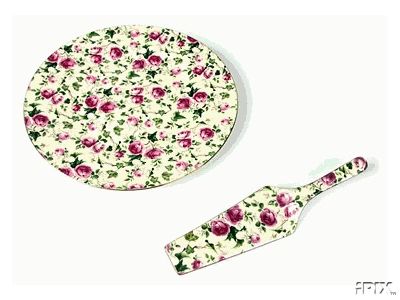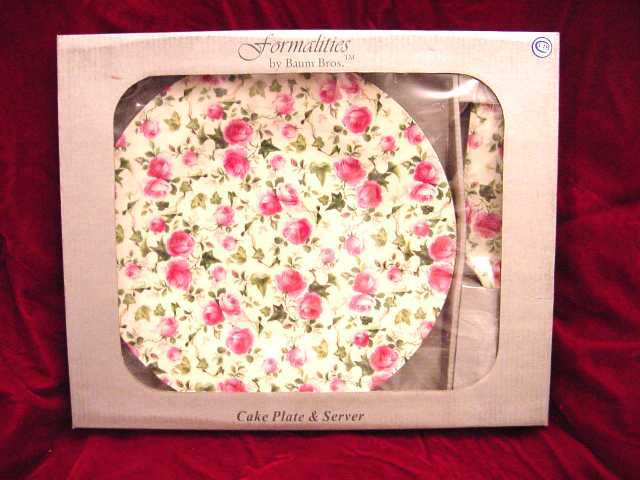 Both pieces are in mint condition...cakeplate measures 10.5" in diameter and server measures 9.75" long. Like the lovely coveted chintzware found in antique stores at exhorbitant prices, this piece features an allover profusion of blooms... touches of gold add formality, so dont be afraid to go all out and serve dessert! With the chintzware enthusiast, or the fancier of Victoriana, thi set will find a fond reception!!!Beautiful color!...this is positively smothered in blooming roses! China by Baum Brothers, and is marked on the bottom as such.

Click on heart to order
---


Baum Bros. Chintz Pansey Cake Plate & Server
Item #CAKEPLATESERVER3- $24.99 ea. (quantity 1)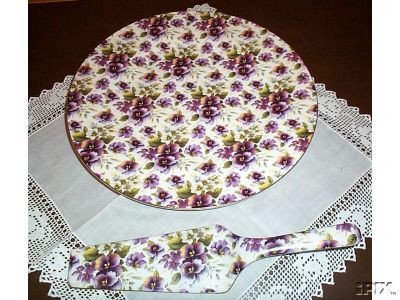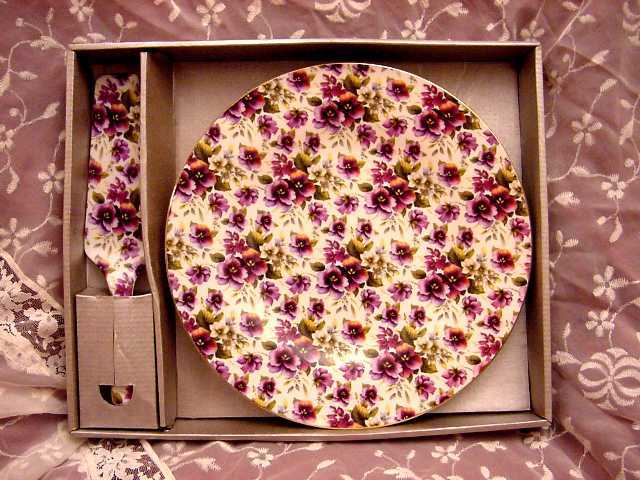 Look at this lovely chintz cake plate with a china chintz server. Lavendar pansy design Formalities by Baum Bros. Plate measures 10 1/2 inches in diameter and server is 9 1/2 inches long. New condition and has not been used or displayed.

Click on heart to order
---

Kent Silversmiths - Sheffield Cake Knife
Item #CAKKEPLATESERVER5- $24.99 (Quantity 1)


This cake knife is from Sheffield, England. Made of Stainless Steel. The handle looks like a Mother of Pearl type of material. It also comes in it's original box.




---


Patina's Promise Bridal Shoppe




Site maintenance by Candlelight Web Design

Site Designed by C J C