Wedding Cake Toppers
---
Bridal Wedding Bear Candle Cake Topper
Item #CAKETOP1- $35.00 (Quantity 1)

$10.99
If you have a bear theme for you wedding check out this addition. It is a bride and groom bear candle set. If you wish you could even put this on your cake. It is alittle heavy but with enough support it would work. Or even as a gift for the wedding couple. You decide. It is just so cute.
---


Vintage Lefton 1985 #ed Dove Figurine
Item #CAKETOP2- $7.99 (quantity 1)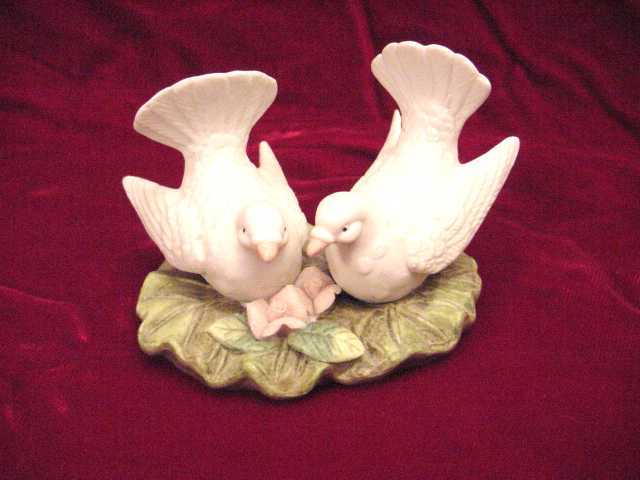 This lovely figurine is from the Lefton China collection. It is #ed 05134 and has the original label as well. From the 1985 collection & hand painted. It measures approx. 3" long x 2" wide.

Click on heart to order
---
SOLD


Vintage Chalk Bride Groom Wedding Cake Topper

Item #CAKETOP3- $45.00 (quantity 1)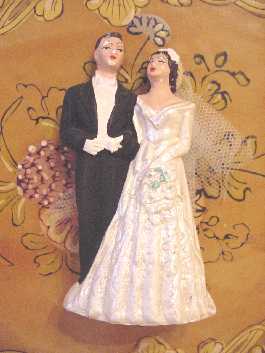 This collectable chalkware hand painted wedding cake topper is made of chalk from the early 1950s. It reads, ACA 1950 on the back. Her dress has a pearlized glaze. Their face paint has some light wear. Measures approx. 3 3/4 inches high x 2 inches wide. A perfectly beautiful antique wedding cake topper.
---
SOLD


1950's Porcelain Bride & Groom Cake Topper Bell

Item #CAKETOP4- $25.00 (quantity 1)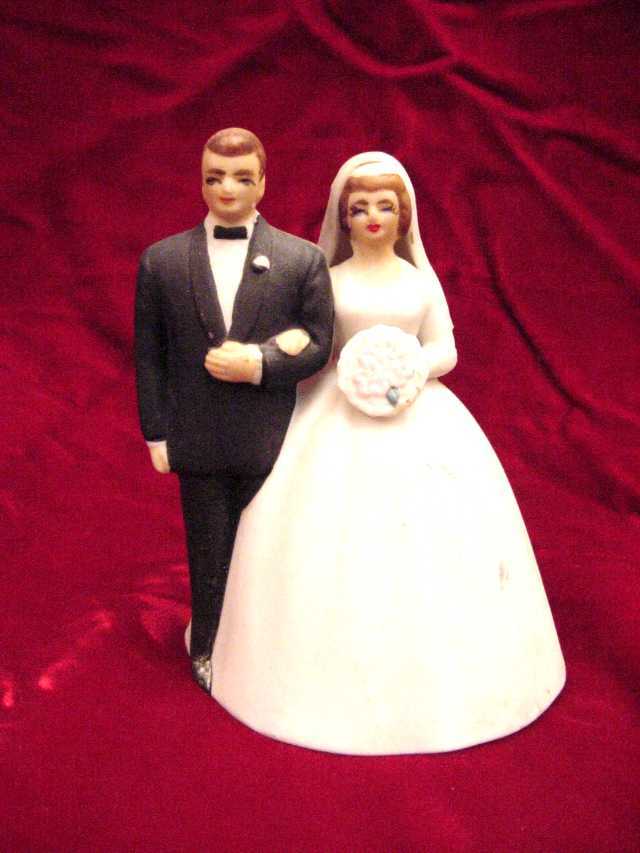 This could be used as a cake topper or even as a special favor! Measures approx. 4.5" tall x 3" wide.
---
SOLD

African American Ethnic Cake Topper
Item #CAKETOP5- $22.50 (Quantity 1)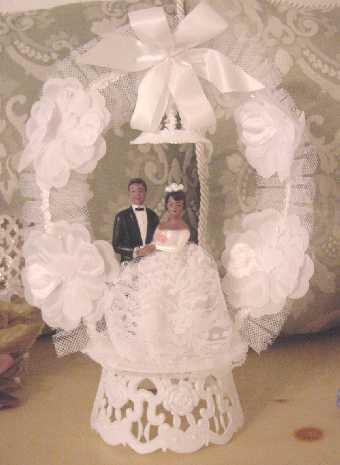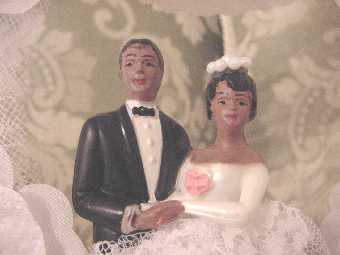 This cake topper is new and never used. It measures approx. 10" tall x 8" wide. The bride is wearing a lace skirt and they have a sweet bell hanging above them.
---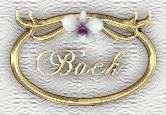 Patina's Promise Bridal Shoppe
FastCounter by bCentral