Wedding & Engagement Liturature
---


Engagement / Marriage Christian books
Item LIT101- $2.99 each (Quantity 3)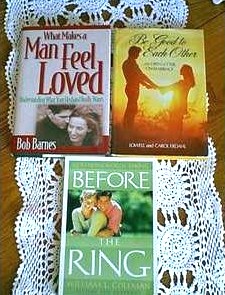 Here is a group of 3 great books about Christian engagement and marriage. Biblical viewpoint. Two are hardcover with shiny dust jackets and one is paperback. All are in terrific condition.

1. BEFORE THE RING: Questions Worth Asking by William L. Coleman; Discovery House Publishers, Grand Rapids, MI; revised and expanded edition copyright 1998; 174 pages; Paperback. "Although there are no guarantees, author Coleman says there is a way to assure yourself that you are marrying the right person. Ask questions. To get reliable answers, you have to ask the right questions. And that's what Before the Ring is all about." Name label in front cover.

2. BE GOOD TO EACH OTHER by Lowell and Carol Erdahl; An open letter on Marriage; Hardcover, DJ; Hawthorn Books, Inc.; 1st Edition 1976; 88 pages. "Down to earth guidance on a wide variety of topics that concern married people--much encouragement and support can come from these pages". Name written on inside cover page.

3. WHAT MAKES A MAN FEEL LOVED by Bob Barnes; Harvest House Publishers, Eugene, OR; 1st Edition 1998; 232 pages; Hardcover with dust jacket, like new. "Understanding what your husband really wants. You know you love your husband--are you sure he knows?" Book club edition. No marks.
---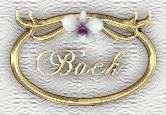 Patina's Promise Bridal Shoppe